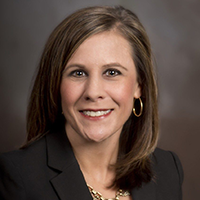 Nadia A. Rogers, CPA, of Blacksburg, earned a B.S. with a concentration in Accounting and Information Systems as well as a Masters of Accountancy from Virginia Tech. She is currently an Associate Professor of Practice at Virginia Tech.
In addition to her teaching responsibilities, Rogers is the Director of the Master of Accounting and Information Systems (MACIS) Program and Advisor of the Accounting Analytics, Audit and Financial Services Options within the MACIS Program. She has authored an accounting article on biometrics in the Information Systems Control Journal, a worldwide publication on IT governance and assurance.
Rogers has served as the Chair of the VBOA's Peer Review Oversight Committee. She has also contributed to the accounting profession by performing Peer Reviews of firms providing accounting and auditing services to their clients in addition to performing reviews that assist firms in preparing for their Peer Review.
Before joining Virginia Tech as an educator, she was in public practice for approximately 14 years. Most recently, she was a Partner of Creedle, Jones & Alga, P.C. and previously a Senior Manager in KPMG LLP's Audit Practice in Richmond, Va.